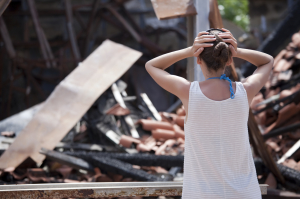 Trauma, according to Peter Levine, a psychological trauma theorist, can be caused by "any overwhelming and distressing experience," and it is only identifiable by its symptoms.
Within the issue of trauma, there are several types of events that can lead to Post Traumatic Disorder (PTSD). One type of trauma is caused by natural disasters like hurricanes, tornados, forest fires, floods, volcanic eruptions, landslides, or tsunamis. What is specific to trauma from natural disasters is that it may traumatize a large portion of the populations at the same time and can result in epidemics of Survivor Guilt and other PTSD symptoms.
Also specific to trauma from natural disasters, is that these events can be sudden and overwhelming to the person. Usually, the immediate reaction to these sudden events are shock, which may start off with a numbness feeling or denial. A lot of the times, these feelings are quickly or gradually followed by being in an overemotional state, which can leave one feeling anxiety, guilt, or even depression.
People may find themselves under a variety of circumstances after a natural disaster such as losing their loved ones or their homes. If this is the case, many feel helpless and may have to stay in camps or shelters without the support of close ones for long periods of time. Though, living with others affected by the natural disaster can serve as a time to reconnect and talk about the shared event with others affected, this may help to reduce helplessness and start the healing process.
Living with other survivors can serve as a time to reconnect, talk about the event with others, and help to reframe the event. Also, being able to help another survivor can reduce helplessness, and may start the healing process.
As you one can see, understanding this type of trauma, may be able to help in coping with a natural disaster or one may be able to help others to cope with it. For more information on hurricane safety, contact Armor Screen.