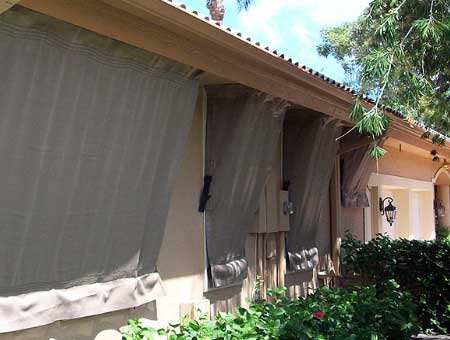 When preparing for a hurricane, there are several factors to consider:
Ease of Use: There are multiple methods to securing your home against a hurricane. Some are more time and labor intensive than others. Armor Screen offers several options that are all relatively simple to deploy. Our solutions range from our Hemcord System, which can be deployed by sliding it along the pre-installed track and secured, to our Roll Up System, which can be deployed at the push of a button.
Level of Protection: You may have heard about the varying levels of protection offered by most of the traditional hurricane protection methods on the market. Armor Screen's products are Florida building code and Miami Dade approved, and have consistently been the most highly rated in the industry since their inception.

particular, our original Buckle and Strap System has led the industry in   strength, size and versatility since its introduction in 1998. Buckle and Strap Systems have been installed all over the world on single family homes, multi-family structures, military bases, fire stations, police stations, hospitals, airports, hotel chains, banks, historic buildings and many more.

Cost: Cost is an important factor to consider when looking at options for hurricane protection. We know you want to keep your family safe without breaking the bank. That's why here at Armor Screen, all of our systems offer the same level of strength and protection at varying levels of cost. We offer custom solutions based on your budget and your needs. We also offer financing options to make our products even more affordable.
Armor Screen is here to help you make the best decision for your home and family. Contact us to find out more information about our products and get a custom quote for a solution that fits your hurricane protection needs.