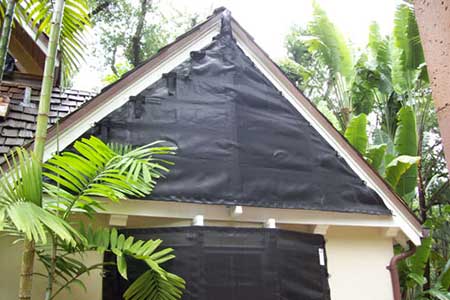 What are hurricane screens?
Hurricane screens are tougher than your regular window and door screen. They can handle wind speeds of up to 276 mph, can block debris and hurricane strong winds and rain. These screens are perfect for large openings like storefronts, picture windows, lanais, and balconies.
What's the difference between hurricane shutters and hurricane screens?
Hurricane shutters have to come down after a storm while the hurricane screens can stay installed but rolled up because they are made of softer materials and enjoy "freedom of design." This means the screens can be customized to blend in with your existing design and theme.
Hurricane screens will also never hide your home because they can be cut to perfectly fit all designs like arches, balconies, porches and unusual designs. Unlike shutters, hurricane screens are translucent yet able to block 97% of rain and wind.
How are hurricane screens installed?
The screens are mounted using a special system. You have choice of a permanent mounting system or one that can be removed. The light fabric used is a special polypropylene geotextile which are permeable woven fabric made of high tenacity fibers. It takes about an hour to install these screens in an average household and several hours for a commercial building.
 Why should you get a professional team to install hurricane screens?
Unlike regular window screens which can be nailed to the window frame, hurricane screens are not ordinary screens but treatment screens. This means aside from protection from outside elements, hurricane screens can improve energy efficiency and adhere to the stringent regulations of the county on hurricane screen protection. Professional installation is required because these screens need to fit exactly with 100% precision so there are no weak spots.
In addition, the hurricane screens need to be mounted on a special system. They cannot be nailed to the window frames. By using the right mounting system, you are guaranteed hours of protection.
How practical are hurricane screens?
Hurricane screens are very practical with a wide screen price range. They are a great alternative to the more expensive impact windows or even hurricane shutters for residential homes and small structures. Moreover, by getting a professional team to install your hurricane screens, you avail of the company's product warranty and emergency repair service, if any is needed.
There are several mounting systems you can choose from but our professional team will do an ocular and discuss with you in length about the best system for your home or business.