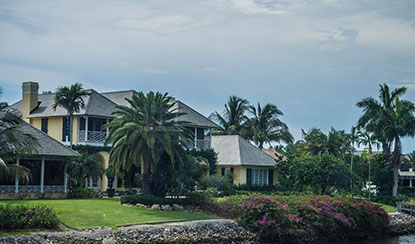 The sun, surf, sand and absence of winter draws many of us to Florida, but we all know hurricane season often comes as the summer does. While El Nino helped protect the Florida coast from Hurricanes for most of 2015, Colorado State University is giving a 97% chance of a named hurricane hitting the U.S. in 2016. While El Nino has protected the coast recently, it has an equally powerful way of waking La Nina, who many expect will come rushing back to the coast as the hurricane season awakens and the weather heats up.
While hurricanes are terrifying and can certainly cause disastrous consequences, there are things residence of South Florida can do to protect themselves and their families. The most important factor is to start planning and preparing today, because storms tend to come without much of a warning. Below are a few steps you can take today, to protect your largest investment.
Make sure your roof is prepared for the prospects of a storm by securing lose shingles with roofer's cement. You will also want to prevent water from entering the home by closing any gaps around the chimney, wires or holes that water could enter and cause extreme damage.
After protecting the roof, do some landscaping to ensure any bushes or trees that could hit your home are trimmed. Dead branches have a tendency to break off in storms as do loose parts of bushes, which should be relatively easy to remove.
One of the weakest points in any home is the garage door, which can easily be punctured by flying objects or blown in by heavy winds. While the inside of the garage may be able to handle some water, once the garage door gives way, it is only a matter of time before the rest of the home follows suit. Give your garage door some backup by securing it and protecting it.
Last but certainly not least; you will want to protect windows, which are incredibly susceptible to hurricanes and the debris they tend to throw around. While storm resistant windows are a good first step, a hurricane protection system will save you from broken windows, water in the home and potential injuries to you and your family. In a place like Miami Dade County it is crucial to have a system that not only protects your home or business from the first storm of the season, but also continues to protect throughout the entire hurricane season.
For a Florida Building Code approved way to protect your home, business and family, please give Armor Screen a call at 1-877-BE-SAFER today!