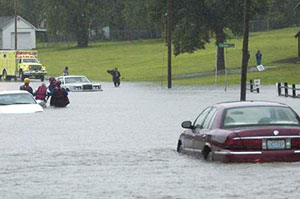 Those of us who have experienced hurricanes first hand are likely to understand how severe hurricanes can be. However, young people who are not familiar with these experiences may not have a clear understanding of the devastation a hurricane can cause to a community.
This phenomenon was recently highlighted in a July Mason-Dixon poll of Florida residents, 10 years after record breaking summer hurricanes such as Katrina, Dennis, Rita, and Wilma.
Some of the younger people polled were in elementary school the last time there was a hurricane, and therefore may have been too young to grasp the possible severity of the natural disaster. In fact, the poll found that the majority of younger people are not worried about hurricanes and don't give it much thought. According to this poll, this younger generation is not quite sure what they are facing during hurricane season.
The poll found that 60 percent of Floridians either think that a hurricane is "not too likely" or "not at all likely" to hit Florida in 2015. Also, according to the poll, the differences of opinion based on age is wide. The poll found that 28 percent of younger Florida residents between the ages of 18-34 think there is at least some chance for a hurricane and 67 percent of these younger residents don't believe there is. These percentages are very different when looking at residents 65 years and over, with 51 percent of them feeling like a storm could develop and only 42 percent being doubtful that there will be a hurricane this hurricane season.
This poll was conducted by Mason-Dixon Polling & Research, Inc. of Jacksonville from July 20 through July 24 of 2015. A total of 800 Florida adult residents were interviewed statewide by telephone.
The poll shows that when it comes to natural disasters such as hurricanes, experience can make a difference in the level of awareness or even preparedness. However, since a natural disaster such as a hurricane can cause severe damage to communities in Florida and other states it is known to affect, it is important to stay educated and aware during this hurricane season.