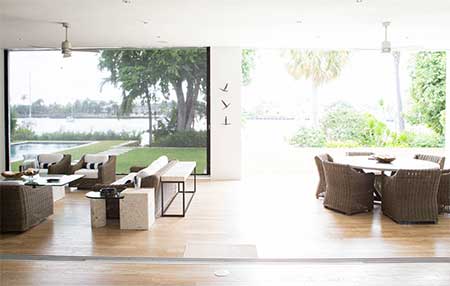 What if controlling the weather in your home was as easy as pressing a button?
With those hot summer months quickly approaching, why not only get that hurricane protection you've been needing but also get some comfort with it?
Armor Screen is not only used for hurricane protection, but it also doubles as the perfect protection for a comfortable outdoor space which you can take advantage of all year long.
With the Armor Screen roll-up system, our UV-stabilized fabric is installed on a custom track that can be easily triggered with the push of a button, giving you a perfect protection from not only the rain, but the sun, bugs, and anything else that may come your way.
You invest in your beautiful patio, you make it perfect for every occasion, so why not add Armor Screen to your to-do list and make your outdoor patio stand out? Our UV-stabilized fabric can reduce the temperature on your patio, making your house the talk of the block during those uncomfortable summer months.
Look at how Armor Screen makes a difference in this patio above. The portion of the patio that is covered by Armor Screen has a comfortable shade whereas the side with the protection rolled up has no shade.
Be the premier location for all the summer barbeques with a patio that gives comfort and protection to you and your guests. While giving you comfort during the summer is great, our primary focus at Armor Screen is to protect you during the hurricane season.
Aside from the shade, our state-of-the-art roll-up system will also protect your patio from the harsh winds, rain, and debris that a Category 5 hurricane might bring.
For more information on how the Armor Screen roll-up system can be used in your home, call us at 877-237-2337 or fill out a form to learn how we can create a custom solution tailored to your needs.