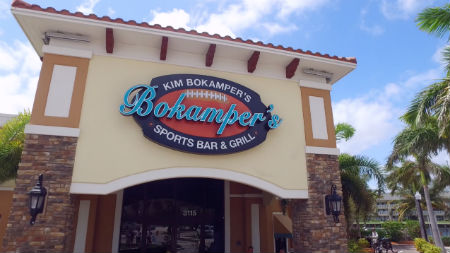 Weather in South Florida can change in an instant, making outdoor dining areas at restaurants unusable when this happens. Bokampers Sports Bar and Grill in Ft. Lauderdale has taken steps to prevent this from happening by enclosing their outdoor area with Armor Screen. Now, guests can use this space all year round, rain or shine.
"Armor Screen is a game changer for us. It gives our guests protection during inclement weather and allows for their viewing pleasure on a great sunny day… Armor Screen has raised the class of our restaurant." – Kevin Sheahan, GM Bokampers Sports Bar and Grill
Armor Screen is great for every day use, making sunny areas cooler and more enjoyable to use. It can also give protection from even the worst weather and is rated for Category 5 hurricanes. It is easy to use, and can be deployed at the push of a button. Learn more about our roll ups and check out the full video below. And, if you have a business, residence, or any type of outdoor space to protect, call us at 877-237-2337 or fill out a form  to learn about a custom solution that's perfect for you.
Bokampers Sports Bar & Grill (Armor Screen) from Armor Screen on Vimeo.